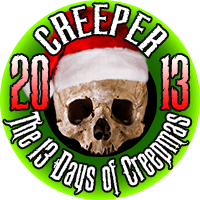 Merry Creepmas! For those not in the know, Creepmas is a humorous, web-based celebration of Christmas (with a focus on the spooky) during the first thirteen days of December. Why? To strike back at how Christmas keeps encroaching upon Halloween's domain every year. Having had far to many experiences of stores going into full Christmas mode on October 31st, it should come as no surprise that we've decided to join in. So, in addition to Strange Jason's "13 Days of Christmas" series, here are some classic articles to get you into the spirit:
'tis the season…FOR HALLOWEEN SHOPPING?
Build Your Own Krampus Costume
Winter's Majesty
Winterbeast
Christma(dnes)s
More Christma(dnes)s
Even More Christma(dnes)s
Our podcast also has some great festive music, both naughty and nice:
Happy Horror Holidays!
These Holidays Are Horrible
These Holidays Are…Really Not That Bad
The official Facebook page for Six Foot Plus also has information on how you can get involved in this year's episodes…
UPDATE: The title is a joke about the last minute nature of this post. Our participation in Creepmas "almost wasn't," not the actual event of Creepmas itself. Sorry for any confusion on our part.