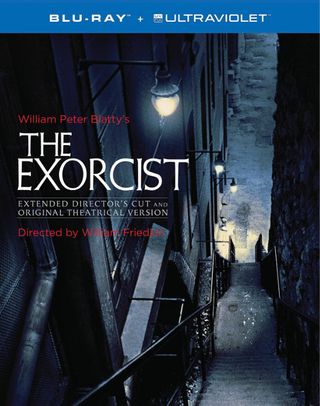 Zombos Says: Excellent mix of movie versions and features in one set.
Not having watched the extended director's cut or original theatrical version blu-ray editions previously released, this 40th anniversary set from Warners Home Video, adding two new special features on a third disc and a snippet from William Friedkin's book The Friedkin Connection, is a superb way to re-experience the artistry of The Exorcist, one of the top 5 horror movies made.
One of the new additions is Beyond Comprehension: William Peter Blatty's The Exorcist. Blatty, former comedy writer (good luck with that career after this movie hit), now famous horror author and screenwriter, takes us on a tour of old haunts. Our first stop is the guest house he eventually settled into, with mass quantities of coffee and cigarettes, to write his novel. He explains the few false starts that led him there; for instance, his first choice of writing milieu was a beachfront abode, but noisy cresting waves were too distracting for him. Throughout, Blatty keeps a  wowser! how lucky was I attitude that pops up a little too often to remain fresh, especially at times when more revealing exposition on the process of how he got that lucky would have been appreciated (and yes, that's the writer side of me pointing fingers here, of course). One startling revelation: he didn't have an outlined plot and worried he would eventually write himself into a corner. I recall Charles Dicken's never outlined his novels, either. (Lucky bastards, the both of them.)
The impetus for the novel and its memorable terrors was a true-life case of exorcism that occurred in 1949, which both Friedkin (in his in-depth commentary for the movie and his book) and Blatty refer back to, often. The second new addition is a 20 or so minute chat with Father Eugene Gallagher, who talks about Blatty's time at Georgetown University and that 1949 case, and the exorcism rite itself. This is an informal, filmed in black and white, interview conducted at the time the movie was first scaring audiences, so the set up is minimal, the hair of the interviewer long (radio talk show host Mike Siegel), making it more suited to diehard religious or Exorcist fans with less itchy trigger fingers on their remotes.
The effectively teasing snippet from Friedkin's book, where he relates his experiences with the movie and Blatty, is contained in a hard cover booklet that fits neatly into the cardboard slipcase along with the DVD jacket. It's a revealing nugget of information that compelled me to get Friedkin's book. It also makes you wonder where horror's gotten off to, after such a promising decade in which it received stellar attention from topnotch directors and actors and writers. 
Those of you who have watched the previous blu-ray versions will already know how crisp and vibrant the viewing is, and how rewarding Friedkin's scene by scene commentary can be–I didn't realize until he pointed it out how he used the subtlety of having Father Karras rising (ascending) in his scenes–and how much the documentaries Raising Hell: Filming the Exorcist and The Fear of God: The Making of the Exorcist make you appreciate the nuts and bolts that, finally assembled into the movie, deliver a jolt of character-driven dramatic tension and release you don't often see in today's horror movies.
I can't really say which version I prefer, original or extended cut. The original 1973 showing is the one that made The Exorcist a classic. It's also the one I remember getting the willies from, sitting in a theater in with a whole bunch of other people getting the willies, too. On one hand the original is concisely executed, but on the other the additional 12 minutes have their moments. Some of them include the overly done subliminal flashes of the demon's face, but others reinforce the dual horrors of the medical examinations and the demon's possession , like Regan's jarring crab walk down the stairs. Thank god the technology back then wasn't ready for it: had I seen that in 1973 I don't think I'd have slept a wink for weeks afterwards.
This article originally appeared at From Zombos' Closet.

This work is licensed under a Creative Commons Attribution-NonCommercial-NoDerivs 3.0 License.